Outstanding Window Tinting in NJ
The Best Mobile Window Tinting NJ Service
Our mobile window tinting NJ service will help you give your car the protection and style it deserves. If you're searching for the best, look no further than VIP Detailing. In order to meet your goals and provide your car with the greatest possible protection and style, our team of professionals will assist you in selecting from a variety of films.
Our service uses cutting-edge technology from Geoshield and their Pro Nano Ceramic Film to help block UV rays, safeguard your interior, increase privacy, and enhance comfort so you can drive safely and worry-free. We also offer a Lifetime Warranty for your window tint and we boast a 1-Day Turnaround. Prices start at $350!
VIP Detailing is a top-notch detail company that will restore your car to showroom condition. VIP Detailing can meet any type of auto care need, regardless of whether your automobile is new or old. Get a personalized quote for your vehicle from us right away! For complete vehicle protection, check out our ceramic coatings.
Benefits of Window Tinting
Window tint NJ is a great method to enhance the appearance of your car while offering many useful benefits, such as:
Preventing UV rays from harming your interior.
Increased security and privacy.
Keeping your car cooler by rejecting solar heat.
Better comfort.
A more stylish appearance for your car.
VIP Detailing has you covered if you're searching for the best window tinting NJ. Your car will look and feel better than ever thanks to a variety of tint options and our professional staff.
Why choose our Mobile Window Tint service?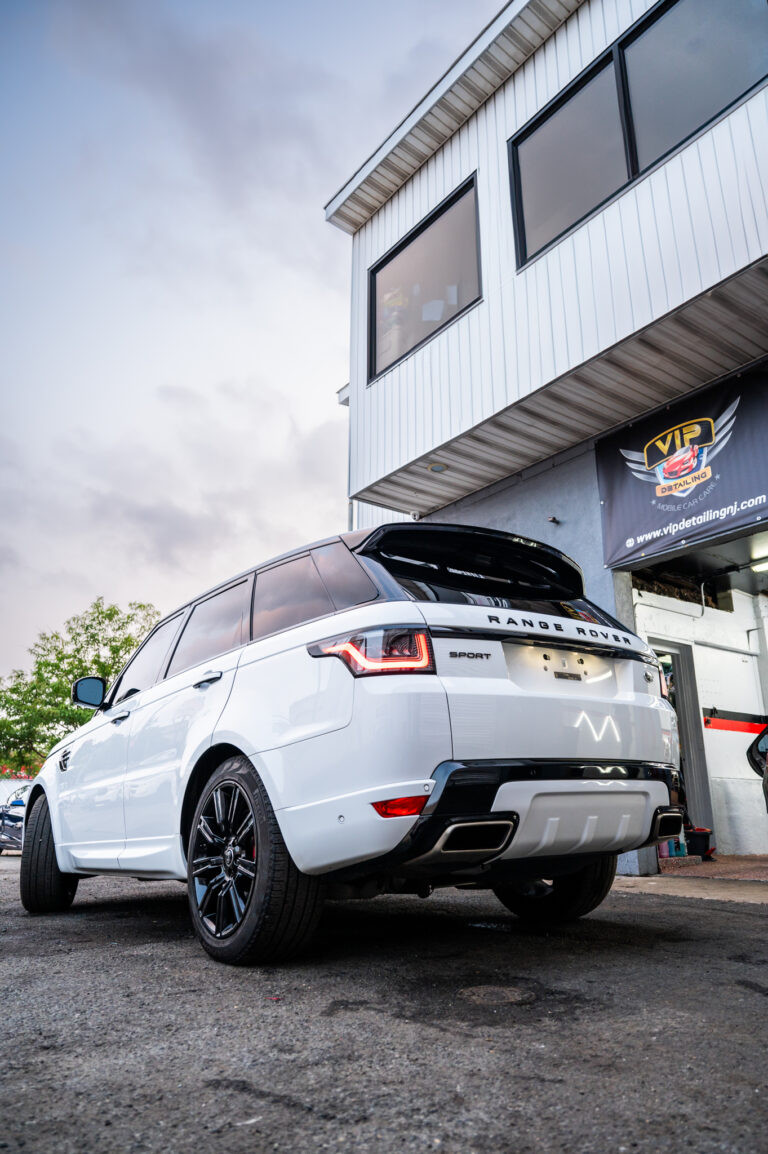 Mobile Window Tinting Services Are Convenient
When it comes to window tinting NJ services, the value of convenience cannot be overstated. You have the freedom to decide when and where your car will be tinted thanks to our mobile service. No matter where you are, our team of professionals will come to you and provide you with the best service available.
You can also check out their other services like car detailing, paint protection film, vinyl wrap, and paint correction pages. For more information Contact us Today!
Efficiently Works with Your Schedule
Our mobile window tinting NJ service also effectively accommodates your schedule. This is much different from what usually happens during a regular tinting job. With other  services, you have to drop off your vehicle leaving you stranded. Our professionals will tint your car at your preferred time and location.
Window tint can offer several significant advantages in addition to enhancing the appearance of your car. Window tinting NJ can keep your car cooler in the summer and aid with glare and UV exposure reduction. Consider VIP Detailing NJ if you're thinking about window tinting NJ for your car.
Yes, tinting can be worth it for a number of reasons. In New Jersey, window tinting is popular because it can help keep your car cool in the summer heat. Tinted windows also provide UV protection and can help reduce glare.
Window tinting is a process of applying a thin film to the window glass of a vehicle. This film can help to reduce the amount of heat and glare that enters the vehicle, and can also provide some level of privacy.
New Jersey State law states that any tint darkness can be applied to the back side windows and back windshield. It is illegal to tint the front windshield.
New Jersey does however offer medical exemptions for special tint.
Take a look at what our customers are saying
Millie
2022-02-28
The best service provided for my car my car looks new again thanks for the service will definitely recommend to friends and family. And I will continue using your ...
Selena Dominguez
2022-02-27
Excellent service !! Wilo will make sure your car will be spotless and takes his time. Love the fact he has a flexible schedule:)
Massi
2022-02-26
Received a full interior detail, outcome looked as if it was fresh out of the dealership. Beyond satisfied with the results, and will definitely do business ...
Naomi Soto
2022-02-25
If I can give this business 100 stars I would!! By far the best mobile wash I've ever. Really recommend doing services with them! You will not be disappointed!
Jahmia Richards
2022-02-24
Great work! Willow made my car look like new. Very professional and reliable. Don't think just book him!
julie santos
2022-02-22
Literally transformed my car and can't wait for him to do it again !!! 10/10
Stefanny Gamonal
2022-02-22
If you're not getting your car detailed by them then you're missing out ! 10/10 !!!
Marcos Zavaleta
2022-02-22
Always comes through, service is always impecable and makes sure to doit to your standard. Amazing communication skills between his service and those receiving it. ...
Jeffrey Caminero
2022-02-22
VIP Detailing is the real deal!! Made me fall in love with my car all over again. Will gave my car a paint Enhancement and an interior detail. My cars paint was so
Having trouble choosing a package?
No Problem, Call or text today and we'll help you choose the best fit!
Due to regular driving, your car is exposed to all sorts of harmful situations. From UV rays, flying rocks, and scratching to the paint, all these can damage your vehicle. While these are somehow natural occurrences that you can't prevent, there are some things you can do as mitigation steps.
Aside from guaranteeing your satisfaction, we also provide quality and precise services. Our experts are laser-focused on large tasks and concentrate on ultimate perfection on every detail. We are also friendly since we believe in creating relations and VIP experiences in every service we provide.
You can either Call us on (908) 759-1320 or fill out the form!
Proudly Serving Elizabeth, NJ