Premier Paint Correction Service in NJ
Get Premium Paint Correction NJ Services from VIP Detailing Today!
One of the services you can be sure to get from VIP Detailing is paint correction, not just that, but premium. Paint correction NJ refers to removing imperfections and scratches from a car's finish. The goal is to restore the car to its original glory by removing all the blemishes.
Paint correction NJ  will make your car look brand new. The good news is that here at VIP Detailing, we offer different levels of correction customized to suit your car and budget requirements. Regardless of your choice, we maintain quality in all areas.
It is not uncommon that vehicles can get solemn tolls from environmental elements. These can lead to scratches, water spots, wipe-down marks, and many more. Removing these scratches through paint correction may seem like a time-consuming and expensive process, but it is worth it.
The process starts with a high-pressure spray and foam car soap wash. With this, all the pollutants, grime, and fine dirt imprinted on the vehicle's paint will be removed. Afterward, the paint is cut with an abrasive compound applied directly to the car's exterior.
Once the damaged paint is removed, we will apply a wax coat and a sealant to the newly buffed surface. This will ensure the paint correction is intact while creating a wet-steel-looking shine. We only use superior products and finishes to remove all the grit, grime, tar, and scratches.
That seamless result you get makes our professionals the best in Elizabeth, NJ, and surrounding areas. Our commitment is to ensure that you get the best quality service. We also understand that you want your car to be handled with the car, and that is just what we do. That way, you can be sure to reap the benefits of our premium paint correction NJ services that include but are not limited to the following.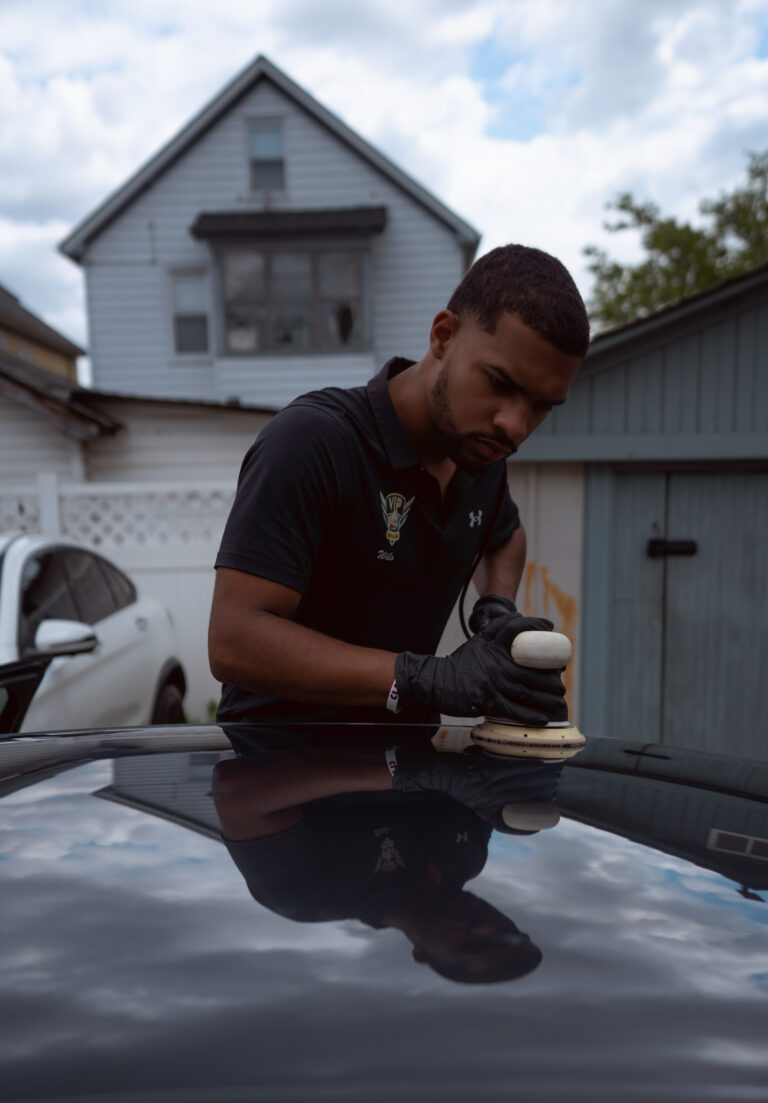 Paint Correction NJ Services
Paint Enhancement
Foam rinsed and hand washed

Wheels and wheel wells cleaned and decontaminated

Paint surface decontaminated

1 stage polish performed with polish/sealant combo
1 Step Paint Correction
Vehicle inspection using paint meter gauge

Foam rinsed and hand washed

Wheels and wheel wells cleaned and decontaminated

paint surface decontaminated

Light-medium polish used to remove most swirls and marring while enhancing gloss
Gives Your Car a New Look
One of the undoubted benefits of paint correction NJ is that it gives your car a new shine. The process restores your car's clear coat giving that brand-new-like appearance. Often, when buffed, the shiny wet appearance will return to the paint. This will make your car look beautiful and look years younger, newer, and more vibrant.
Related to this is that the paint correction NJ service restores your exterior vinyl and accents. While the primary benefit is the new shine of the paint, a secondary benefit associated with this is the rejuvenation your car's exterior accents and parts will get. The vinyl and rubber bumpers will get rejuvenated with unique products and many more.
Boosts Car's Resale Value
 Another benefit of paint correction is boosting your car's resale value. A scratched and dull finish makes your car hard to sell and get its total worth. But you can avoid this through a premium paint correction NJ service from VIP Detailing. After a paint correction, your car will be like it did when it was new, or even better. This will, in the end, help you avoid excessive wear and tear, resulting in high maintenance costs. In the end, you will get a higher appraisal at trade-in or when you decide to sell it.
Increases the Car's Paint Longevity
Environmental elements will unmeasurably take a toll on your vehicle. Even the smallest scratches from road debris, marring from poor washing techniques, leave your car vulnerable to corrosion. Some of these chemicals can corrode the paint and expose metal oxidation. Often, repairing such damage is experienced and can cost you loads of money. That is where you will appreciate paint correction NJ as it can smoothen or entirely remove such blemishes. The end means an increase in the longevity and luster of the car's paint. 
For more information, you can also check their other services like car detailing, window tint, vinyl wrap, ceramic coating, and paint protection film pages. Contact us today!
Take a look at what our customers are saying
Millie
2022-02-28
The best service provided for my car my car looks new again thanks for the service will definitely recommend to friends and family. And I will continue using your ...
Selena Dominguez
2022-02-27
Excellent service !! Wilo will make sure your car will be spotless and takes his time. Love the fact he has a flexible schedule:)
Massi
2022-02-26
Received a full interior detail, outcome looked as if it was fresh out of the dealership. Beyond satisfied with the results, and will definitely do business ...
Naomi Soto
2022-02-25
If I can give this business 100 stars I would!! By far the best mobile wash I've ever. Really recommend doing services with them! You will not be disappointed!
Jahmia Richards
2022-02-24
Great work! Willow made my car look like new. Very professional and reliable. Don't think just book him!
julie santos
2022-02-22
Literally transformed my car and can't wait for him to do it again !!! 10/10
Stefanny Gamonal
2022-02-22
If you're not getting your car detailed by them then you're missing out ! 10/10 !!!
Marcos Zavaleta
2022-02-22
Always comes through, service is always impecable and makes sure to doit to your standard. Amazing communication skills between his service and those receiving it. ...
Jeffrey Caminero
2022-02-22
VIP Detailing is the real deal!! Made me fall in love with my car all over again. Will gave my car a paint Enhancement and an interior detail. My cars paint was so
Having trouble choosing a package?
No Problem, Call or text today and we'll help you choose the best fit!
Due to regular driving, your car is exposed to all sorts of harmful situations. From UV rays, flying rocks, and scratching to the paint, all these can damage your vehicle. While these are somehow natural occurrences that you can't prevent, there are some things you can do as mitigation steps.
Aside from guaranteeing your satisfaction, we also provide quality and precise services. Our experts are laser-focused on large tasks and concentrate on ultimate perfection on every detail. We are also friendly since we believe in creating relations and VIP experiences in every service we provide.
You can either Call us on (908) 759-1320 or fill out the form!
Proudly Serving Elizabeth, NJ